Sooo as you all know, this whole blog thing is COMPLETELY new to me
and each time I log on, I learn something new.
I was reading a blog and there was a post about a "Blog Hop" and of course all I could think about was bloggers dressing up in poodle skirts, taking pictures, and posting them on their page...
Needless to say I was wrong.. really wrong.
It's this cool idea where you can post a link to your blog on fellow blogger's blogs and get your name out there! It is exactly what I need to get this page up and running so I dont feel like I'm talking to myself! And boy was I excited when Christa from Young & Restless (I would put a link, but I haven't figured that out yet.) became my first follower. YAAAAY!!
So anyway, down below will be a link (the only reason i have it is because she made it) to my new favorite thing, "THE BLOG HOP." Hope to see you there!:)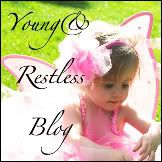 Oh yeahh... GOOOO RANGERS!